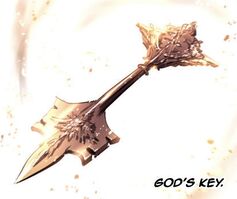 God's Key introduced in Chapter 179 is the Object of God given to and possessed by Archangel Uriel.
Appearance
Edit
God's Key is a small golden key with sharp tip resembling an arrow head attached to 2 bits on either side of the key shaped like the sides of a feather with 2 indents on each bit. On this tip is a pattern resembling Angel wing on the surface of the bits protruding from either side from the center of the Key and protruding out onto the tip is an ornate design of a single feather. Moving along the stem of the key to the bow which is shaped like a pair of angel wings and at the center of the bow is the outline of the Cross.
Powers and Abilities
Edit
God's Key has the ability to open any door or passageway regardless of what blocks it without any trace of the key being used.